Laser Engraving
From AAISP Support Site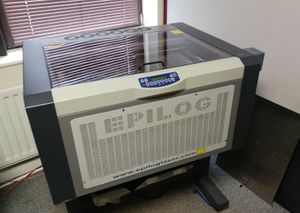 Technical Information
We have an Epilog Mini Laser engraver, which we use for laser engraving jobs.
It has a bed size of 600mm x 450mm, and a maximum bed depth (distance between bottom of machine, and the mirror for the laser) of 230mm, so can engrave on anything up to and including this size.
What can we cut
The laser can cut through up to 6mm of acrylic (plastic) or wood. We have various plastics available in different thicknesses that can be cut. Some plastics are specifically intended for signage with two colours for engraving, and would typically be cut around the final engraved sign.
What can we engrave
We can engrave in to plastic and wood. This works well with two colour signage plastics where the engraved area is a different colour. In the case of wood, this works well as a deep cut in to the surface of the wood, and we can even cut different depths if you like.
We can treat artwork as an image and generate a pattern to create grey levels. This allows pictures to be engraved. However, line-art is usually best.
We can engrave on to surfaces such as anodised aluminium as found on iPads, and iPhones. This works best where the anodizing is a colour such as black or space grey as it reveals the white/metallic aluminium beneath. However, the engraving does work quite well in a subtle way, even on plain anodised aluminium creating a white on silver artwork.
We can engrave in to plastic on products such as phones, but this depends on the type of plastic, and we usually ask to do a small sample mark first to confirm it will work. Some plastic bubbles up badly when engraved.
Artwork Guidelines
We are not graphic designers, so you will usually need to supply artwork if you wish to have something engraved. We use a custom lpd driver to drive the laser engraver, which we feed EPS files into, although we can accept (and convert) SVG files if required. Do read the following guidelines to ensure the best quality for laser engraving jobs when you design your artwork.
Sizing/DPI
The laser engraver takes its input in the form of a 90dpi EPS file - we usually recommend creating artwork in Inkscape for this, as it defaults to 90dpi and is relatively easy to use. If exporting files from other software, do check that the EPS you're exporting is at 90dpi, for example Illustrator defaults to 72dpi, so you may need to scale the final output.
When submitting artwork, it is advisable to supply the dimensions you believe the artwork to be - we can then check this before loading the file onto the engraver to make sure the engraving will be the desired size once completed.
Colours
For items to be engraved, please make these using black, hex #000000 or (1.0 1.0 1.0 setrgbcolor). For items to be cut, please make these using red, hex #FF0000 or (1.0 0.0 0.0 setrgbcolor). The laser engraver will attempt to understand any other colour as an instruction to engrave this as a raster image, and so final engraving quality may not be as expected if these colours are deviated from.
If submitting an SVG, make sure there is no transparency. In Inkscape this is the fader marked "A" under RGB from the Fill and Stroke panel (Ctrl+Shift+F), ensure this is set to 255.
Text
We may not have the fonts used to create your artwork. If artwork is supplied with text elements, the laser machine may attempt to substitute the font if it is not one it knows about. To avoid this, we recommend converting all texts to paths before sending the artwork to us. This means the laser machine considers your text only as a series of shapes, rather than an instruction to render text using a font.
In Inkscape, to convert text to a path, you can simply select the text, and press Shift+Ctrl+C.
Object Layout
When creating items that will be laser cut, for example a switch panel containing a panel with several holes in it, it is important to take into account the layering. Have the inside cuts as the first layers, and outside cuts as the last layers, as the materials can and do move around slightly when inside the machine. Cutting an outline of the item first usually means that any further cuts can be misaligned by a slight amount as the item can shift slightly on the bed.
In Inkscape, you can adjust the object layout using the XML Editor to move elements up and down.
Example artwork
Below is example artwork so show the above design guidelines in practice. Click on images to see full description, and to enlarge or download.
Legal
You must indemnify us against any claims relating to any engraving or artwork you ask us to produce, including claims of copyright breach. Please make sure you have the right to use any artwork.
If you ask us to engrave something for you, you are agreeing you have the right to engrave the item (either it belongs to you, or you have permission to have it engraved). You have to indemnify us against any claims for damage.
We cannot guarantee that engraving an item for you will work perfectly - you agree that the total liability for any issues are that we will simply not charge for the engraving, and we are not liable to compensate you for any damage caused. We will, of course, use all reasonably skill and care to avoid damage and ensure the engraving works as you expect.