Category:ZyXEL VMG3925 B10B: Difference between revisions
m

Line 15:
Line 15:

The ZyXEL B10B (VMG3925-B10B) is an all-in-one ADSL/VDSL router with dual band, 2.4G and 5G WiFi, 4 gigabit network ports and separate WAN ethernet port. AAISP started supplying these in April 2018

The ZyXEL B10B (VMG3925-B10B) is an all-in-one ADSL/VDSL router with dual band, 2.4G and 5G WiFi, 4 gigabit network ports and separate WAN ethernet port. AAISP started supplying these in April 2018






[[File:VMG3925-B10B-Large.png|400px|thumb|ZyXEL VMG-3925-B10B]]

[[File:VMG3925-B10B-Large.png||thumb|ZyXEL VMG-3925-B10B]]

[[File:VMG3925-B10B-WallMount.png|300px|thumb|Wall mount]]






'''Basic Specs:'''

'''Basic Specs:'''
---
Revision as of 09:35, 12 March 2018

The ZyXEL VMG3925-B10B (B10B for short) is the elder sibling of the VMG1312 - it benefits from having gigabit ethernet ports and dual-band wifi.
Summary
The ZyXEL B10B (VMG3925-B10B) is an all-in-one ADSL/VDSL router with dual band, 2.4G and 5G WiFi, 4 gigabit network ports and separate WAN ethernet port. AAISP started supplying these in April 2018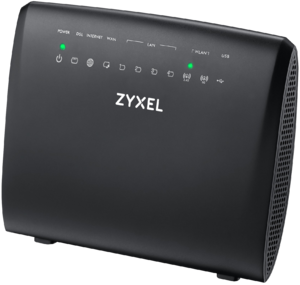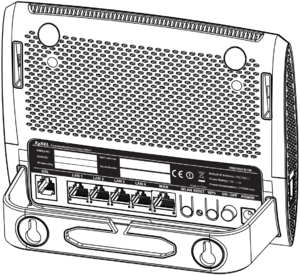 Basic Specs:
4x 10/100M/1000M ports.
Modem supports VDSL (FTTC) and ADSL/ADSL2.
WiFi is 2.4GHz and 5Ghz, 802.11b/g/n, 802.11a/n/ac
MTU 1500 when in bridge mode not possible yet, but we are working with ZyXEL on this. (2018-03)
Suitable for:
ADSL1
ADSL2
VDSL (FTTC)
VDSL (FTTC) as an ethernet router plugged in to a VDSL modem (no longer a common setup, as Openreach no longer provide VDSL modems)
VDSL (FTTC) or ADSL as a bridging modem to a third-party PPPoE router (e.g. FireBrick).
FTTP using the ethernet WAN port doing PPPoE.
Factory Default Admin Username/Password
Note: An AAISP configured router will have a different username and password.
Default/Factory Password
IP:
192.168.1.1
Username:
admin
Password:
1234
Supervisor password:
The B10B has an autogenerated supervisor password (hashed from the serial number) - however you can read /etc/passwd from the device as the admin user via SSH - you'll need to crack the hash (eg with hashcat), the password will be 8 characters long using characters 0-9,a-f (lower case)
Subcategories
This category has only the following subcategory.
Pages in category 'ZyXEL VMG3925 B10B'
The following 6 pages are in this category, out of 6 total.
Media in category 'ZyXEL VMG3925 B10B'
This category contains only the following file.