This is the support site for Andrews & Arnold Ltd, a UK Internet provider. Information on these pages is generally for our customers but may be useful to others, enjoy!
Category:ZyXEL VMG3925 B10C
Jump to navigation
Jump to search

The ZyXEL VMG3925-B10C (B10C for short) is the elder sibling of the VMG1312 and was introduced March 2019 as a replacement to the discontinued VMG3925-B10B - it benefits from having Gigabit Ethernet ports and dual-band WiFi, you can see more differences on the VMG1312 Vs VMG3925 page. The specification is very similar to the VMG3925-B10B that it replaces (in fact the same firmware is used on the B10B and B10C), but benefits from a re-designed web interface (which is also available on the B10B from firmware version AAVF.12).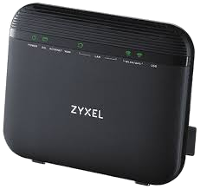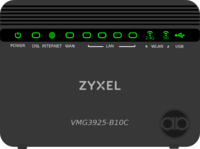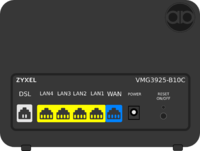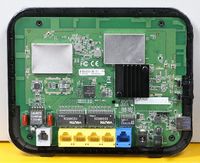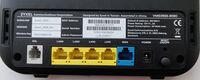 Basic Specs
4x 10/100M/1,000M ports.
Modem supports VDSL (FTTC) and ADSL/ADSL2+ (Not G.Fast)
WiFi is 2.4GHz and 5GHz, 802.11b/g/n, 802.11a/n/ac (3x3 802.11ac) (limited to 30 clients by default)
MTU 1500 when in bridge mode not possible.
Suitable for:
ADSL1, ADSL2+
VDSL (FTTC), G.Fast (Modem doesn't support G.Fast, so you'd need a separate G.Fast modem)
FTTP, FTTPoD
Router and Modem modes:
an all in one modem/router/wifi
an Ethernet (PPPoE) router plugged in to a separate VDSL or ADSL modem or a FTTP or FTTPoD ONT
a bridging modem to a third-party PPPoE router (e.g. FireBrick, Mikrotik etc)
Security Advisories
ZyXEL have a page with their Security Advisories: https://www.zyxel.com/support/security_advisories.shtml
'Consumer' grade
It's worth noting that this is a consumer grade router which ideal for home use or for small offices. Different or additional hardware may be more suitable for larger or more complex networks, larger offices or to cover a larger area with WiFi access.
Factory Default Admin Username/Password
Note: Once configured, the router will have a different username and password as per Control Page settings.
Default/Factory Password
IP:
192.168.1.1 (will change once configured if you have a block of IPv4 addresses)
Username:
admin
Password:
Before configured it will be as stated on the rear panel. Once configured it will be the one printed on the A&A card.
WiFi Password:
Before configured it will be as stated on the rear panel. Once configured it will be the one printed on the A&A card.
Supervisor password:
The B10C has an autogenerated supervisor password which is hashed from the serial number, and usually unknown to us.
Manuals etc
Subcategories
This category has only the following subcategory.
Pages in category "ZyXEL VMG3925 B10C"
The following 9 pages are in this category, out of 9 total.
Media in category "ZyXEL VMG3925 B10C"
This category contains only the following file.