This is the support site for Andrews & Arnold Ltd, a UK Internet provider. Information on these pages is generally for our customers but may be useful to others, enjoy!
DGA0122 Public IPs
Jump to navigation
Jump to search
Unable to set or change the LAN address when using public IPs
Date reported 2020-12-08
Software Version 19.4 (19.4.0207-4381030)
Status: With Technicolor
If you want to set the Local Network IP address via the web interface to a public IP then you will get the error 'Cannot use an address in this address range' and will be unable to change it.
It seems the web interface only allows RFC1918 addresses to be used as the 'Local IPv4 Address'
However, when A&A program the router via TR069, it is possible for it to be configured with a public subnet.
This bug only affects you if you want to change the Local IPv4 Address to a public IP yourself, via the web interface.
Workaround
Staff can re-configure the LAN subnet via our TR-069 programming - this can be used if you change your block of IPs or if you want to change from using private IPs (192.168.1.1) to public ones
Another work around is to set up the router for dual LAN subnets - that is to have the private IPs as well as the Public Subnet.
Dual LAN Subnets
Desired outcome: You want the router to have a main NAT's IP block and allocate IPs by DHCP to your LAN, but you want an additional public subnet which you can use on specific devices on your LAN that you configure manually.
Prerequesits: The router would be in a state where it is configured initially without the public block of IPs - ie, it's has the private IPs on the LAN. Then, the IP block can be allocated to your line and some manual configuration can be applied to the router as follows: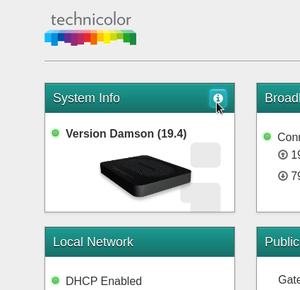 Go to gateway tile / System Info (top left)
clicking configuration and then clicking 'setup your gateway'
Click Advanced, then Routed Subnet
which you can specify a static IP address when changing the routed
type to static.
Note:
DHCP will use the private IPs, it's not possible to change it.
Sending a config from the A&A control pages will overwite these changes.