Router - VMG1312-T20B
Summary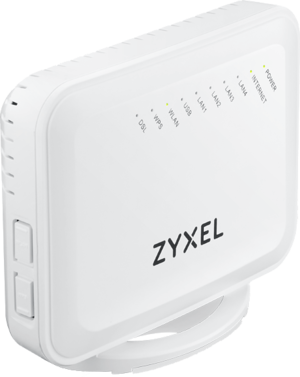 This model replaced the older VMG1312-B10D in November 2020.
The ZyXEL VMG1312 (VMG1312-T20D) is a basic all-in-one ADSL/VDSL router with WiFi and 4 network ports. AAISP started supplying these in November 2020.
Quick Start guide: File:VMG1312-T20B Quick Start.pdf
Basic Specs:
4x 10/100M ports.
Modem supports VDSL (FTTC) and ADSL/ADSL2.
WiFi is 2.4 GHz, 802.11 b/g/n
MTU 1500 when in bridge mode not possible.
Suitable for
ADSL1
ADSL2
VDSL (aka FTTC)
Bridge or Router
The VMG1312-T20B can be set up as a router or as a bridge if you have your own PPPoE router. When in Bridge mode, the router's "Login Password" as as printed on the Zyxel information on the router and not one specified by A&A.
Not suitable for
FTTP
G.FAST
Plugging in to a Modem (there is no Ethernet WAN port)
'Consumer' grade
It's worth noting that this is a consumer grade router which ideal for home use or for small offices. Different or additional hardware may be more suitable for larger or more complex networks, larger offices or to cover a larger area with WiFi access.
Admin and WiFi passwords
We ship the router with a basic configuration which is just enough to get the router to log in to us and fetch its full configuration for your line. There are settings on the control pane which can set the SSID, passwords etc, but until the router has been sent its full configuration it is in an 'unconfigured' state.
As shipped / unconfigured
When in Bridge mode
Once configured
IP:
192.168.1.1
192.168.1.1 or your public block
Username:
admin
Password:
as stated on the ZyXEL rear panel
Contact Support
as printed on the A&A card
WiFi Password:
as stated on the rear panel
WiFi is disabled
the one printed on the A&A card