VoIP - Calling With a SIP URI
Jump to navigation
Jump to search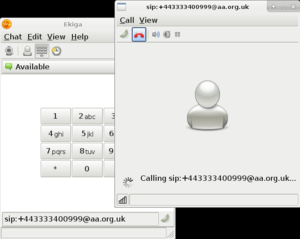 Incoming calls can be made from the internet to your number by using a SIP URI such as:
sip:number@aa.org.uk  

A call to a URI like this will be delivered just like a normal incoming call. Except the caller won't incur any call charges.
The format of your number should be in +44 format, e.g. to call AAISP support you'd use:
sip:+443333400999@aa.org.uk

You do need to use the hostname aa.org.uk as we use SRV records to direct the call, so using an IP address is not supported.
The CLI is not trusted for such calls, so are sent to your SIP handset with a ? on the front of the number (which may confuse some caller ID display units), and not passed on if the call is diverted.
So, for example, without any configuration or account details a softphone may call your A&A provided VoIP number, as shown in the image here.
As mentioned, this does require the client (the phone you're calling from) to support SRV records.
Known working clients
You may need to tell some of your contacts how to call you using a sip: URI. To help, the following SIP clients are known to work:
Softphones
Ekiga (Linux)
Linphone 4.0.1 (Android)
Twinkle (Linux) - although currently (Dec 2018) there's a problem with SRV records when using systemd-resolved (on Ubuntu and Debian at least)
Voipfone Softphone (Android) deserves a mention. It needs an account with voipfone.co.uk, but you can signup and try for free. Their softphone app just works out of the box for calling SIP URIs (although an update in March 2019 has stopped this working)
Some clients can call SIP URIs without any configuration, other clients require that a SIP account is defined (and perhaps enabled). For these clients, it can be useful to have a free SIP account which can't place external calls (e.g. linphone) - that way one can be sure that the client isn't making chargeable calls.
Known not-working clients
Linphone 3.6.1 (Linux) - doesn't use SRV DNS records
CSipSimple, GS Wave - need a SIP account to be enabled
Zoiper (Android) - appears at first to work, but closer examination shows that it uses the SIP account to place calls (even when that account is disabled)