ZyXEL GS1900-8
Jump to navigation
Jump to search
Overview
The GS1900-8 is a fanless 8 port managed switch.
Configuration
Factory Default Admin Username/Password
Note: If AAISP configured the switch then the credentials will be different
Default/Factory Password
IP:
192.168.1.1
Username:
admin
Password:
1234
https is enabled by default, albeit with a certificate that will give browser warnings
When you make a change to the configuration you must click Save from the top/right corner of the web interface
Factory Reset
Hold in the reset button on the front for 10 seconds, release, and all the port lights will light up and the switch will reboot.
Accessing the switch
Set your computer to be on an IP in the subnet that the switch is in, eg, 192.168.1.100/255.255.255.0
In your browser, go to http://192.168.1.1
Login with the default credentials as above
VLAN config
When using with a FireBrick for bonding multiple lines we can use VLANS for each of the PPP sessions.
We'll configure the switch as:
Port 1 - VLAN 101, for ADSL line 1
Port 2 - VLAN 102, for ADSL line 2
Port 3 - VLAN 103, for ADSL line 3
Port 4 - VLAN 104, for ADSL line 4
Port 8 is for the FireBrick
Creating the VLANs
Click VLAN

Create a new VLAN, enter in 101, then Click Next

Drag Port01 to the Untagged area
Drag Port08 to the tagged area
Click Next, then click Finish

Click Save from the top/right corner of the web interface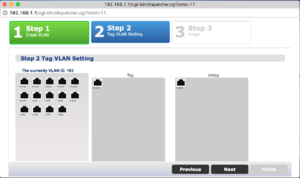 This process repeats for VLAN 102, 103, 104 but you use Port02 for VLAN 102, Port03 for VLAN 103, Port04 for VLAN 104... so:
From the front page, Click VLAN

Create a new VLAN, enter in 102, then Click Next

Drag Port02 to the Untagged area
Drag Port08 to the tagged area
Click Next, then click Finish

Click Save from the top/right corner of the web interface
From the front page, Click VLAN

Create a new VLAN, enter in 103, then Click Next

Drag Port03 to the Untagged area
Drag Port08 to the tagged area
Click Next, then click Finish

Click Save from the top/right corner of the web interface
From the front page, Click VLAN

Create a new VLAN, enter in 104, then Click Next

Drag Port04 to the Untagged area
Drag Port08 to the tagged area
Click Next, then click Finish

Click Save from the top/right corner of the web interface
Change admin password
From the front page, click the settings/Cog icon on the left
Click Management, then Users

Click the Modify icon next to the admin user
Enter in your new password and click Apply.

Click Save from the top/right corner of the web interface
Further, Optional settings
Name the switch:
From the front page, click the settings/Cog icon on the left

Click System, then Information
Enter in Name, Location, Contact details as you wish
Click Apply

Click Save from the top/right corner of the web interface
Set Names for your VLANs:
From the front page, click the settings/Cog icon on the left
Click VLAN, then VLAN

Click the modify icon to the right of VLAN 101
Change the name from VLAN0101 to, say, PPP101
Click Apply

Repeat for the other VLANs
Click Save from the top/right corner of the web interface
Name the Ethernet ports
From the front page, click the settings/Cog icon on the left
Click Port, then Port

Tick the bot next to Port 1, Click Edit
Set the name to, say, Modem1

Repeat the above for ports 2, 3, and 4. For port 8, name that FireBrick.
Click Save from the top/right corner of the web interface