DoH and DoT
Jump to navigation
Jump to search
DNS over HTTP and DNS over TLS
Andrews & Arnold does not yet support DoH or DoT. This page is work in progress.
Help with browsers and devices
FireFox
Menu
Preferences
Scroll down to Network Setting...
Scroll down and tick 'Enable DNS over HTTPS' and enter in a Custom provider: https://dns.aa.net.uk/dns-query

Checking your browser
In your URL bar, type: about:networking#dns
Chrome
DoH is expected to be a feature in Chrome version 78
Android (DoT)
DoT is supported in Android version 9 and up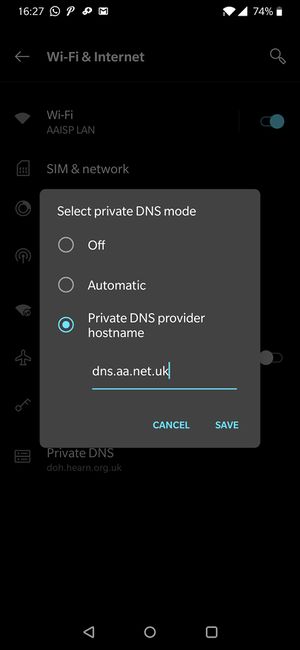 Settings
Search for "DNS" in settings search bar
Go to PrivateDNS setting screen
Tap 'Private DNS provider hostname', and Set: dns.aa.net.uk
Click Save
Using DOH with curl
Note: curl version 7.62.0 or above is required, here's an example:
curl --doh-url https://dns.aa.net.uk/dns-query https://www.aa.net.uk

This will download the www.aa.net.uk webpage but would have used the DOH server to resolve the DNS.