This is the support site for Andrews & Arnold Ltd, a UK Internet provider. Information on these pages is generally for our customers but may be useful to others, enjoy!
Incoming Email Settings: Quick Examples
Jump to navigation
Jump to search
Overview
As of 2017 we are asking customers to check and update their email server settings so that they are connecting to the correct server. Below are the details of the POP3/IMAP settings that should be set. This ensures that our customers get the best performance and privacy when collecting email from our servers. Support for customers not using mail.aa.net.uk as the incoming email server name will cease to work from June 2018.
From January 2018 we are also emailing individuals to advise them that they are using incorrect server details. This page is give to help you change your settings.
Note regarding passwords
When changing the server name in your email program it is usual for your email program to ask you for your Mailbox password, please ensure you know what your password is before making the change. Please see the Change Email Password if you get stuck here.
Changing the mail server name
Generally speaking, whatever email program or device you use for email you should be able to go to the Email Account settings and find the setting for the Incoming server name and set that to be: mail.aa.net.uk. Below is more information.
Settings to use
Incoming email settings
Type
IMAP or POP3
Port
IMAP=993, POP3=995
Server name
mail.aa.net.uk
Username
Your email address, e.g.: mailbox@example.com
Password
The password you set on the mailbox. (Case sensitive)
Security
SSL/TLS (Not STARTTLS)
Changing the server name in Thunderbird
Edit (or Tools) -> Account Settings -> Server Settings. Set: Server Name: mail.aa.net.uk Port: 993 Connection Security: SSL/TLS


Changing the server name in Apple Mail
Mail -> Accounts -> Select the account on the left pane. Click Advanced. Set Hostname: mail.aa.net.uk


Changing the server name on an iPad/iPhone
Settings --> Accounts and Passwords --> Select your mailbox, Account --> Set: Hostname: mail.aa.net.uk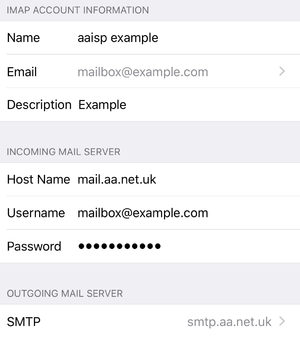 Changing the server name on Microsoft Outlook
File --> Account Settings --> Account Settings
Select the email account you want to change, and then choose "Change".
Set Incoming mail server: mail.aa.net.uk
Under "More Settings", check for enabling SSL

Changing the server name on Windows Live Mail 2011 (Old version)
Right click on your email account, choose Properties --> Servers --> Set: Incoming mail: mail.aa.net.uk
and also:
Under Advanced --> Tick the option for SSL