TalkTalk Wholesale Line Tests
From AAISP Support Site
Tests available to VDSL/FTTC Circuits on TalkTalk Wholesale backhaul
VDSL/FTTC Circuits on TalkTalk Wholesale backhaul will be using BT Openreach cabinets rather than TalkTalk's own equipment for termination of the circuit, and so only tests exposed by Openreach can be run.
Currently, only one such test (Service Test) is available for such lines.
Issue Service Test

This will issue a test to check for sync with the modem, and reports back line rate. Additional output based on historic line observations is occasionally provided as an indication when suspected REIN, or other such impairments have been detected, but serves as an indication rather than confirmation of these conditions.
The Service Test generally takes three minutes to complete, and the results can be found by reloading the page, and checking the Line's Log.

Tests available to ADSL Circuits on TalkTalk Wholesale backhaul
ADSL Circuits on TalkTalk Wholesale backhaul have various line tests that can be requested, and these are usually ran directly from TalkTalk's equipment housed in the exchange.
Not all exchanges are equipped with a TAM module or a DSLAM compatible with testheads, so for a very small number of lines these tests may not run successfully.

Get Sync Status
This will return the current sync status of the line
Example result: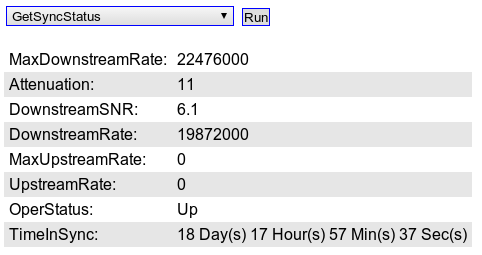 OperStatus:
This is the Operational Status of the Port in the exchange.
Activating - Line not in sync. This does not mean a modem/router is plugged in, it just means it's waiting for a modem to sync up
UP - Line is in sync
TAM
The TAM test runs testing on the copper circuit. This task takes about 3 minutes to run.
After Running the test, go back can select to view the results.
Example result: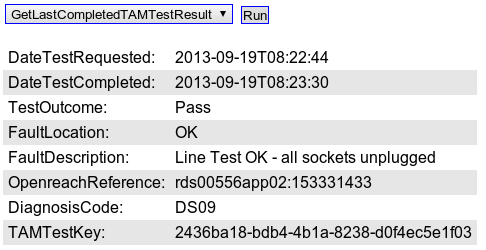 GetLineData
This will retrieve a history of the line, up to 7 days at most.
Example result: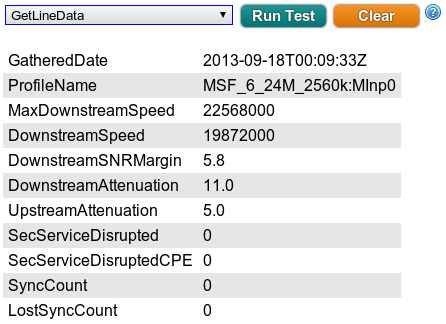 GetSpeedTestResults
This will display the historical speed tests for the line when using TalkTalk's speed tester at internet-speedtest.net. When you use this tester be sure to put your number in the box at the end without spaces. TalkTalk would like you to run the test at least 3 times, at various times of the day.

The speedtest button on the control pages will take you to the test page.
Example result: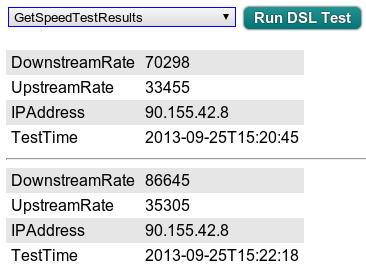 The speed figures are in Kb/s...