This is the support site for Andrews & Arnold Ltd, a UK Internet provider. Information on these pages is generally for our customers but may be useful to others, enjoy!
VoIP Phones - Grandstream HT8xx
Jump to navigation
Jump to search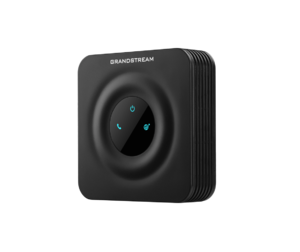 Feature Notes
Supports 302 Redirect
?
Tested on FireBrick SIP Server
No
IPv6 Support
Yes
This is based on the author's experience of the HT801 (bought new in Sep 2018), which is a small unit (roughly 4" x 4" x 1") which provides 1 FXS port and no FXO ports. It does IPv6. Similar units are the HT802 (which has 2 FXS ports), and the HT81x series (which adds a NAT router, and is available with different numbers of FXS ports).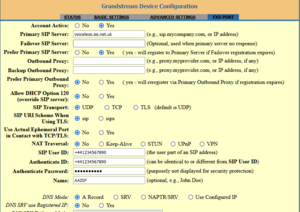 If supplied without a Quick Start Guide, connect to a router which acts as a DHCP server and connect a telephone to the unit. Then dial '***' to access the internal Interactive Voice Response (IVR) system. '02' will read out the unit's IP address(es). Point a web browser at one of those addresses, and login as 'admin','admin'.
Basic Settings, Internet Protocol, select Both, prefer IPv6 (or, if you're brave, select IPv6 Only)
See https://www.ukvoipforums.com/viewtopic.php?t=1061 for UK settings (although you might want to set the NTP Server to time.aa.net.uk as that has IPv6 addresses)
Can support pulse dialling handsets - FXS Port, Enable Pulse Dialing, select Yes. As a bonus, this allows a pulse dialling handset to interact with IVR systems - at least until the system asks you to press '*' or '#'.
Can send BT CLID to handsets, see UK settings link above
A couple of personal favourite config options:
There's a confusingly explained option under FXS Port labelled Use # as Dial Key, explained as if set to Yes, "#" will function as the "(Re-)Dial" key. If set to No the # key works as a normal key, if set to Yes it acts as a special key variously named Send or Dial which can be used as Redial last number called - but that'll be the last number dialled by the unit, not the last number dialled by the phone concerned. I set it to No to avoid surprises.
Also under FXS Port are some options regarding Hook Flash. This corresponds to what the UK calls Timed Break Recall. I set the option Enable Hook Flash to No - otherwise you can think you've hung up on a call by tapping the hook switch but you haven't (and your phones ring to remind you - so you pick the handset up and find the other party is confused too).
You can set up distinctive ring tones based on the calling number, and it even allows matching on part of a number. I use '020836xxxxx' to match calls from a number of exchanges on the northern edge of London (which is where your author lives). You can't match a E.164 number (+442036xxxxx) directly but under FXS Port is an option Replace Beginning '+' with 00 in Caller ID which changes +4420... into 004420... which can be matched.
IPv6 Only
I finally bit the bullet and configured the unit for IPv6 only. It needs to know about IPv6 DNS and NTP servers, and would need to use an IPv6 syslog server if that service is required, but it just works. Note that the options for getting its IPv6 address are DHCPv6 or static config - it doesn't seem able to use SLAAC.
Firewall & Security
You will also want to set up firewall rules, as per the VoIP Firewall page.
Also see the VoIP Security page for information about securing your VoIP service.
You can have an IP address allow list and block list for web, telnet, and ssh access to the ATA. Unfortunately it only accepts IPv4 address ranges (I have a support ticket open with Grandstream about this). Basic Settings, Web/SSH Access.