Category
:
ZyXEL VMG1312-B10A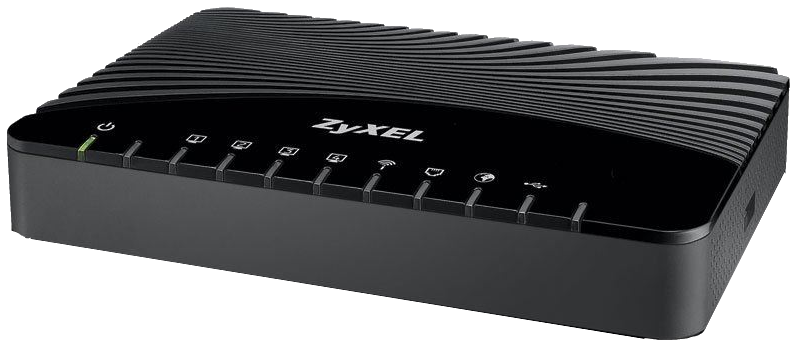 Summary
The ZyXEL VMG1312-B10A) is an all-in-one ADSL/VDSL router with WiFi and 4 network ports. AAISP started trialling these in February 2015 and from mid-May 2015 to Summer 2017. This is no longer the default router.
Basic Specs:
4x 10/100M ports.
Modem supports VDSL (FTTC) and ADSL/ADSL2.
WiFi is 2.4 GHz, 802.11 b/g/n
Broadcom 63168 chipset
Further Documents:
The user guide from ZyXEL is very good.
Suitable for
ADSL1
ADSL2
ADSL2+
VDSL2 (FTTC) as an ethernet router plugged in to a VDSL modem (no longer a common setup, as Openreach no longer provide VDSL modems)
VDSL2 (FTTC) or ADSL as a bridging modem to a third-party PPPoE router (e.g. FireBrick). (Currently with reduced MTU)
FTTP using an ethernet WAN port doing PPPoE.
Factory Default Admin Username/Password
Note: An AAISP-configured router will have a different username and password.
Default/Factory Password
IP:
192.168.1.1
Username:
admin
supervisor
Password:
1234
zyad1234
Supervisor password:
When configured by AAISP, the supervisor password will be the same as the admin password. Logging in as supervisor enables more commands, including the sh command to get a root shell prompt.
"Wifi Disabled" in bridging mode
If you switch this device to bridging / modem mode via the AAISP control panel, you may find that the device continues to broadcast "Wifi Disabled". Connect to 192.168.1.1 (Manual setting to 192.168.1.2 required, as this mode disabled DHCP) and disable wireless via the local admin control panel
GPL OSS
The product does contain open source software under the GPL. We have some of the software on the VMG1312: Software page. A copy of the software should be available by contacting ZyXEL:
MTU 1508
An independent developer, unconnected with AA, has produced a custom build based on the open-source sourcecode from ZyXEL which offers MTU 1500+8=1508 so full IP 1500 byte packets can be sent and received. Support for multiple telnet instances is also another benefit. AA is not associated with this development, cannot guarantee its quality nor be responsible for any problems or damage resulting from its use. AA does not recommend the use of this code and has not reviewed it. You must understand that use is at your own risk. Source code can be inspected and you should do so and build it yourself. As this is a third-party development, do not ask tech support about this. https://github.com/Olipro/VMG1312-B10A Discussion and details can be found on the forum.kitz.co.uk web site.
Security Advisories
ZyXEL have a page with their Security Advisories: https://www.zyxel.com/support/security_advisories.shtml
More Information
See below for further pages on the ZyXEL VMG1312 router...
Pages in category 'ZyXEL VMG1312-B10A'
The following 16 pages are in this category, out of 16 total.
Media in category 'ZyXEL VMG1312-B10A'
The following 9 files are in this category, out of 9 total.